Incline Triceps Press - Instructions, Variations & Alternatives
Muscles involved
Also known as
Incline Close Grip Chest Press
How to perform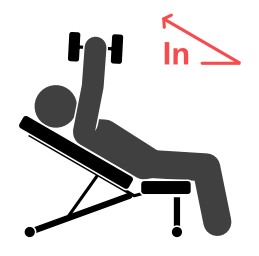 Incline Triceps Press - Starting position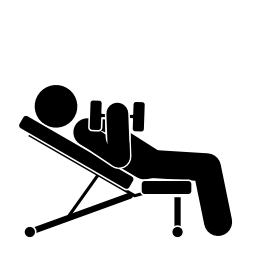 Incline Triceps Press - Muscle Under Tension
Set up & Starting position (seated or standing with cable machine)
Set a bench around 30 degrees incline, sit and lean back. Grab the weights and place your arms straight out over your chest with a neutral grip (hands parallel, palms facing each other) shoulder width apart. Retract scapula and tuck your shoulders down and back.

Eccentric phase
Bend your arms, keeping your elbows close to your chest, and lower the weights towards your chest.

Isometric hold (optional) - Pause at the bottom and breathe in deeply.

Concentric phase
Exhale as you straighten your arms. Concentrate on the triceps contraction and return to the starting position with your arms extended over your chest. Repeat.
With a bench inclination of more than 45 degrees, the exercise involves more strain on the shoulders.
Exercise Alternatives