Front Squat - Instructions, Variations & Alternatives
Muscles involved
How to perform
Front Squat - Starting position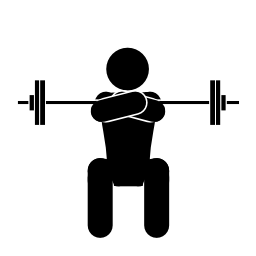 Front Squat - Muscle Under Tension
Set up & Starting position (standing)
Stand in a shoulder-width stance, rest the weight on top of chest or shoulders. Keep your back straight and your body as upright, your upper arms parallel to the floor.

Eccentric phase
Inhale and slowly descend hips until thighs become parallel to floor.

Isometric hold (optional) - Pause at the bottom of the squat.

Concentric phase
Exhale and drive hips back up, pushing your heels into the floor, to return to starting position. Repeat.
Exercise Alternatives